Find Popular Movie or TV Show Locations in Georgia!
*This post may contain affiliate links to products, which mean I may receive a commission, at no cost to you, if you make a purchase through these links. As an Amazon Associate, I earn from qualifying purchases. Please see my Disclaimer.
Georgia is hot!
No, not just the weather. Georgia is hot for filming locations!
As a Georgia native and resident, Georgia has openly been a great place to visit for vacations and live. From the beaches of Tybee Island to the excitement of the city of Atlanta, it's the place to be. I'm arguably biased but I have always loved this state even when I have lived and traveled elsewhere. I am truly a southern girl for life.
Not only has Georgia been a weekend destination, but in more recent years, Georgia has been one of the best locations to film! So much so that it has been deemed the "Hollywood of the South".
Filming is Booming in Georgia
The influx of the filming industry is due to the vast scenery that the state has to offer! For many years, directors have flocked to the peach state because of its vast locations and the relatively great weather year-round. In Georgia, you can film on the beach, country living, city life, and then head to the Blue Ridge Mountains, or simply use the open lands for just about anything you can imagine.
Next stop…Georgia?
Why go to Hollywood when you can just go south? No need to go west when you can find your favorite shows right here. Plus, the food is definitely better.
So, if you are headed to Georgia to take in the scenery and enjoy the southern hospitality, why not take a tour of some of your favorite movie or TV show locations! You will be surprised at how many things are filmed around the state that you may have thought were filmed in other parts of the county or world!
8 TV Shows and Movie Location Sets That You Can Access in Georgia
Here is a snapshot of some of the places you can visit to feel like you are one of the Stars:
Ozark
Have you been following the Netflix hit series, Ozark? Yes, in the show, the Byrde family resides in the Lake of the Ozarks of Missouri. But, they are actually in Northern Georgia about 40 minutes from the city of Atlanta.
In the show, Marty and his family run the Blue Cat Lodge. In real life, you can find The Blue Cat Lodge, better known as JD's on the Lake, in Canton, Georgia! This is a barbeque restaurant that is open to all. You can dine at the restaurant and imagine that you are on set. And, the lake that it sits on is actually Lake Allatoona.
Address: JD's on the Lake (aka The Blue Cat Lodge), 6979 Bells Ferry Rd, Canton, GA 30114-9701
Stomp the Yard
The 2007 movie starring Columbus Short, Megan Good, and briefly featuring Chris Brown was filmed in Atlanta, Georgia. I remember when this movie came out, I was still in High School and I couldn't wait for my own college days.
Although you won't find Truth University, the fictional historically Black university in the movie, you will find the real HBCUs and Universities that you can visit. Head down to the campuses of Morris Brown College, Georgia Institute of Technology, Morehouse College, and Clark Atlanta University if you'd like to relive your college days.
After you finish walking the campuses, make sure you also check out the beautiful homes in the MAK Historic District of Decatur, Georgia which was also used as a location for the film.
Stranger Things
Yes, the town of Hawkins, Indiana is actually in Georgia! However, there are no "Strange" things happening.
If you're all caught up on the Goonies-like Netflix hit, then you will find a very familiar mall northeast of Atlanta. The major plot place in season 3 Stranger Things was filmed in Gwinnett Place Mall. The series refers to it as Starcourt Mall.
You can take a look inside the mall but it's not what it used to be. The mall is mostly empty with a few shops remaining. Go if you'd like, but I'd put this one further down on the list. Stranger Things really brought the mall to life but it does not boast the same energy.
Address: Gwinnett Place Mall (aka Starcourt Mall), 2100 Pleasant Hill Road, Duluth, 30096
On the other hand, perhaps the mall is not your thing. Go to Southeast Atlanta to visit the Hawkins Community Pool that the actor Dacre Montgomery, who plays Billy, worked as a lifeguard.
Address: South Bend Pool (aka Hawkins Community Pool), 2000 Lakewood Avenue Southeast, Atlanta, 30315

Black Panther
WAKANDA FOREVER! RIP to our King Chadwick Boseman.
Yes, the royal family of Wakanda and Marvel masterpiece movie, Black Panther, was filmed in Georgia!
Oh, you thought Kilmonger was actually at the Museum of Great Britain in London? Nope. He was right in Midtown Atlanta at the Atlanta High Museum of Art. I personally love the Atlanta High Museum as there are always great events and exhibits to wander through.
In case you forgot, the museum was used to film the scene where Killmonger and Klaue steal a Wakandan axe made from pure vibranium.
Address: The High Museum of Art, 1280 Peachtree Street NW, Atlanta.
Zombieland
Zombieland is one of my favorite movies. Really, it is! I find it ridiculously hilarious and who doesn't love a movie where Bill Murray drops in.
Head to south Georgia to enjoy the theme-park scenes for the film's climax, Pacific Playland. This portion of the film was mostly shot in Valdosta's local theme park, Wild Adventures Water and Theme Park. I went to school in Valdosta so I have frequented Wild Adventures many times while I was in college.
To your relief, you won't find any zombies but you are guaranteed to have a good time!
Address: Wild Adventures Water and Theme Park, 3766 Old Clyattville Rd, Valdosta, GA 31601
Walking Dead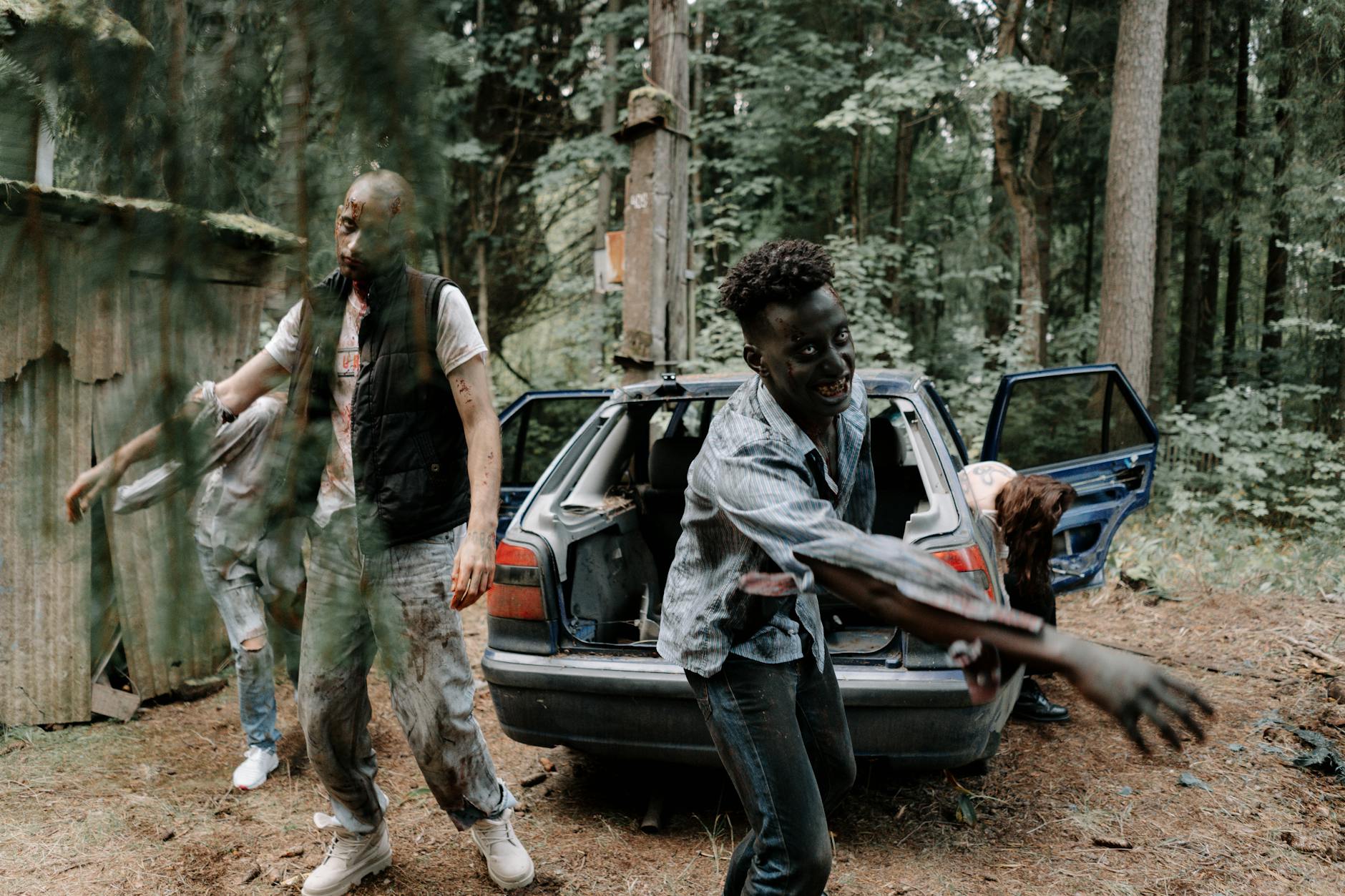 I'm certain that you were waiting for a mention of this one. Yes, the popular Walking Dead series is mostly filmed in the town of Senoia, Georgia.
This small southern town has been widely used as the primary location for the sets.
In fact, you'll have to drive about 35 minutes south of Atlanta to reach the quaint town, but for fans, it may just be worth it.
Ride Along
Kevin Hart and Ice Cube were playing detectives in the streets of Atlanta. You'll recall Highlands High School from the movie but it was actually the State Farm Arena in Atlanta, Georgia!
In reality, the State Farm Arena is a venue that hosts the Atlanta Hawks basketball team along with concerts and other events that come to the city. Stop by the ticket booth or just walk by and visit!
Address: State Farm Arena, 1 State Farm Drive, Atlanta, GA, USA
Anything Tyler Perry has made
I'd be remised if I didn't mention the one and only Tyler Perry! Just about all of his films have been recorded in and around Atlanta. You'll also find his illustrious 330-acre studio in southwest Atlanta formerly Ft. McPherson.
If you're interested in seeing something that won't be hard to get into, then you can view Tyler Perry's most iconic character's home. Mabel "Madea" Simmons House is in Southwest Atlanta!
However, understand that this is a private residence. You will not be able to tour the home but drive-by for a few photos and keep it moving.
Address: Madea's House, 1197 Avon Ave SW, Atlanta, GA
How to Get On a Movie Set in Georgia?
Now that you know where some of your favorite shows are filmed, how do you get your shot to be in the next one?
Since anyone can be in a movie, if you're a Georgia resident or visiting long term, it's actually fairly easy to get into the next hit TV show or Blockbuster film.
When I first graduated college, I did background work, better known as an Extra, for various TV shows. All you need are some clear pictures of yourself; A full-body, mid-waist, and a headshot photo. You can literally take these photos with your phone! You don't need to spend money on professional headshots or anything like that.
Then, look for requests from the local Atlanta casting agencies. Films always need regular people of all ages to be in the background to create the ambiance and real-life scenery of a film. Think about it, the people that you see in the restaurant of movie scenes with the actors are background artists!
The easiest thing to do is simply follow casting agencies on Facebook and then send in your information when you fit the "look". In their post, they will specify what they are looking for and who should apply via email. That's it!
This is how I used to book my gigs to make some extra spending money and so can you! It's really that simple. Here are a few of my favorite casting agencies that will get you in the next Georgia movie: